Praise for Jackie's Books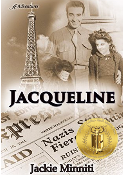 WINNER OF:
Eric Hoffer Book Award
Royal Palm Literary Award
Mom's Choice Silver Medal
Next Generation Indie Book Award
Parent-to-Parent Book Award
USA Book News Best Books Award
International Book Award
Premier Book Award Book of the Year

"Competently written and clearly based on Minniti's experience and passion for teaching."
- US Review of Books

"A keen and inspiring read, especially for unappreciated teachers and those working with students with ADHD."
-Indie Reader

"If you want a quick-to-read novel to put in your suitcase this vacation, grab Project June Bug. This is a book to squawk over."
-Tampa Bay Woman""

"Whether you're a parent or an educator, you will learn something new. Project June Bug is a recommended read for anyone interested in ADHD or in the public education system."
-South Jersey Mom


"Project June Bug goes to the head of the class. Smart, funny, poignant and relevant, it captures the best and worst of a system where no child should be left behind."
-George Anastasia, reporter for The Philadelphia Inquirer

"You will laugh, cry and cheer as you read about a system that is meant to help children but all too often falters. You will grow to love both teacher and student."

-ADHD & LD Resource Blog
"Jacqueline's timeless story of hope, faith, and the enduring bond of friendship will linger with you long afteryou reach the end."

-Diane Capri, USA Today and New York Times Bestselling Author

"A warm and charming story about friendship, love and loss in a dark time in the world's history, Jacqueline shows the quiet strength of faith in God and how, even when He seems not to care, He does."

-Johnny Clark, award-winning author of Guns Up

"In Jacqueline, Minniti takes her readers to war-torn France during WWII as it tries to free itself from the grips of Hitler's army. Young readers will gain a strong connection to the emotional realities of adolescents trying to survive the horrific events of war and the premature loss of their youth while forging relationships that will last a lifetime. Teachers will find this high-interest novel a welcome addition to their classrooms."

-Christopher Mazzino, Supervisor of Secondary Curriculum and Instruction, Penn-Delco School District, Aston, PA
"Author Jackie Minniti has written a highly engaging book which will intrigue young readers...recommended for home and school libraries."
-Literary Classics Seal of Approval
"A namesake with so much meaning and a promise fulfilled is the basis for this touching novel...a timeless tale."
-US Review of Books
Literary Classics Book Awards Gold Medal
Royal Palm Literary Award